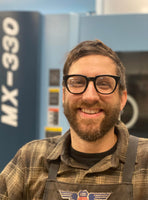 About - Jeff Tiedeken
I am from a farm town in Minnesota, currently living in California where I work on some of the most complex and exciting scientific prototypes of which I am really proud of!
Examples of space projects include concept drill tips for drilling rocks on Mars, communication and research satellites in both Geo and Leo orbits, assisting in building ground based space telescopes to see the creation of our universe from the mountain top in Chile.
Helping develop and build prototypes for researchers studying cancer treatments and removal, robotic surgery and assisting in neural brain pathway research. 
Various construction and testing of concept vehicles and aircraft using full electric, hydrogen and alternative fuel hybrid systems.
Assisting engineering development and building of the next generation of molten salt nuclear reactors, utility scale solar and wind turbines with kinetic energy storage.
My personal favorite projects are exhibits or experiments for leading science museums worldwide to help excite and educate the next generation of young explorers and builders. 
Cutting Time is the next project for me, taking my knowledge, connections, machinery and skills to create a more refined business helping the science community.
I often reflect on how lucky and thankful I am to get to work around some of the most amazingly talented people, true leaders in their industry, they allow me to add my excitement, hard work and talents to push the boundaries of human thinking and creativity.
I wake up everyday loving what I do.
About - Crystal Allen
Crystal's life moves with the wind.... From sailing the Pacific ocean to working on some of the most cutting edge wind turbine prototypes, her life is always involving wind in some way.
Growing up in Alaska to Air Force parents allowed Crystal to have a unique upbrining connecting her with Alaskan nature as well as aerospace from a young age, it was almost a given she would land her first job after finishing college helping develop wind turbine prototypes and working in the field setting up systems for testing around the world.
With 12+ years in advanced composites, welding, fabrication, soft goods, wood work as well as large format 5 axis CNC mold making, Crystal allows us to bring a new approch to doing turn key projects.